General information

Since 1976 Robert D. Vollbehr has manufactured clavicords and in particular harpsichords, with adherence to age-old principles and materials used by the old masterbuilders.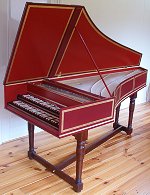 Vollbehr manufactures complete instruments, which includes their action. Only first-class materials and prime quality wood are used. The outward frame is made of lime tree, except for the Italian harpsicords, for which cypress wood is used, the soundboard made of densely grained fir (Fichte), the jacks and registers made of pear wood.

The instruments are close copies of historic instruments or an enlarged-range version of them (ravalement). In order to achieve the best results thorough study is made of the building arts and principles of old masters.

Our goal is always to produce an instrument with a natural, clear and sonorous timbre, which will inspire the player.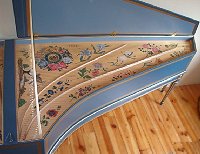 Several instruments are on display in our showroom. We invite you to visit us and try them out for yourself.

Many aspects of the instrument can be manufactured according to the wishes of the client, including the outward appearance, ornamentation and painting as well as the touch of the keys and the intonation.